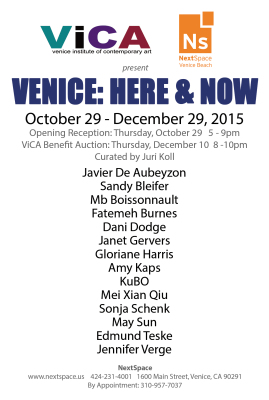 Janet Gervers abstract paintings  were included in several exhibits in 2015 and 2016, which marked the return of her painting. Janet's an abstract painter and after a time away from her art where most of her time was spent on the computer, it was time to delve back into art.
Notably, Janet Gervers was included in the invitational art exhibit by VICA, Venice Institute of Contemporary Art, curated by Venice Artist and VICA Founder, Juri Koll. The exhibition featured Venice artists in "Venice Here and Now", from October 29 – December 29, 2015 at NextSpace Venice. In addition, a Silent Auction was held on December 10 as a benefit for VICA.
Two paintings from Janet's Wave Painting series were included in the exhibit.
In 2016, the two Wave Paintings  plus several more were exhibited at the Venice Art Crawl, a monthly popup art show in Venice at NextSpace Venice.